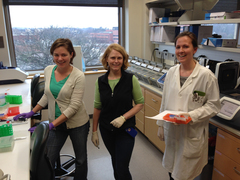 Questions?
Assembled for your convenience, our FAQ section is our most efficient means of answering your questions.
We welcome questions and comments about our lab, genetic testing and the information on our website. Due to the sheer volume of inquiries we receive, our next most efficient method of communication is via email or by submitting comments or questions via this online form. We thank you in advance for your patience as we attempt to respond to all questions and comments in a timely manner.
Help us make this site better
Our goal is to provide you with the information that you are seeking. A large portion of time is devoted to providing visitors to this site with the most up to date site content related to the field of inherited eye diseases. In order to help us make this site better, please include your specific comments and suggestions for the parts of the site that you would like to see changed. In addition, it's also helpful for us to know what parts of the website that you liked. Please send us these comments as well. We can then provide you with more of this information and content in the future.
The John and Marcia Carver Nonprofit Genetic Testing Laboratory
375 Newton Rd.
4111 MERF
Iowa City, IA 52242
carverlab@uiowa.edu
To leave a message: 319-335-8270
Fax: 319-335-7142